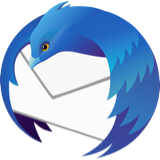 Email Notification Taskbar
Is there a way to get an indication of unread emails on the taskbar icon under Windows 10? On the Mac version, there would be a red dot on the icon if there was an unread email, no matter how many accounts you have. I have the email notification turned on in my tray, but as soon as I open Thunderbird, and click on an unread email, it goes away, even if I have other unread emails.
Not a show stopper, but it makes it easier when you have multiple email accounts.
Many thanx,
Homer
Is there a way to get an indication of unread emails on the taskbar icon under Windows 10? On the Mac version, there would be a red dot on the icon if there was an unread email, no matter how many accounts you have. I have the email notification turned on in my tray, but as soon as I open Thunderbird, and click on an unread email, it goes away, even if I have other unread emails. Not a show stopper, but it makes it easier when you have multiple email accounts. Many thanx, Homer
Chosen solution
All Replies (2)
Exactly what I was looking for - Many thanx,
Homer