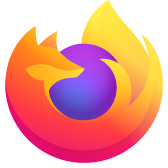 Can't even open Firefox for Mac after downloaded (I have 10.6.7)
I click on the downloaded firefox. It opens on my desktop, I drag the icon to the applications folder. Then when I click on the Firefox icon; it says Close Firefox A copy of Firefox is already open. Only one copy of Firefox can be open at a time."
I have deleted the blue Firefox disk that opens when the downloaded file is opened. Then I opened Firefox from the applications folder & get the same message.
I have restarted the computer, after deleting both the downloaded file & the application - with the same result. It seems to be some bug in your program. I just cannot open Firefox.
Iona
I click on the downloaded firefox. It opens on my desktop, I drag the icon to the applications folder. Then when I click on the Firefox icon; it says ''Close Firefox A copy of Firefox is already open. Only one copy of Firefox can be open at a time." I have deleted the blue Firefox disk that opens when the downloaded file is opened. Then I opened Firefox from the applications folder & get the same message. I have restarted the computer, after deleting both the downloaded file & the application - with the same result. It seems to be some bug in your program. I just cannot open Firefox. Iona