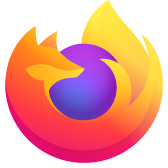 Pinned tabs open links & URLs in themselves, but not in new tabs
It's officially described here https://support.mozilla.org/en-US/kb/pinned-tabs-keep-favorite-websites-open that "Links to other websites open in a new tab so that your Pinned Tab doesn't change." But this is just not the case for me. The content of my pinned keeps changing because they don't open links and URLs (the url bar) "outside." I'm running FX 70.0.1 (64-bit).
Geändert am von Yenping Chang
Alle Antworten (2)
Normal (A HREF type) links should open in a new tab. This might not be the case with JavaScript onclick handlers.
Does this happen with all the links? Does it at least work if you middle-click the link with the mouse wheel or hold the Ctrl key and left-click ?
---
Start Firefox in Safe Mode to check if one of the extensions ("3-bar" menu button or Tools -> Add-ons -> Extensions) or if hardware acceleration is causing the problem.
switch to the DEFAULT theme: "3-bar" menu button or Tools -> Add-ons -> Themes
do NOT click the "Refresh Firefox" button on the Safe Mode start window
Geändert am von cor-el
Thanks for the thoughts. This does work for some although not all links. E.g., it's good for the Mozilla "about" link at the bottom of this page. Yeah, I just tried a random link. This link was opened in a new tab when the page was pinned, but in the same tab if not. And ctrl + link is good too. Disabling all addons doesn't help. So I guess you're right that the issue has to do with link type.
But does your FX pop the link in my original post in a new tab when the page is pinned? My doesn't, which again, might be because that one link is JS-handled somehow, whereas the Mozilla "about" is not. But if this is the case, then FX really has some work to do to improve this "opening elsewhere" function by focusing on link destination recognition...