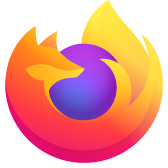 Firefox 5.0 won't open a new window if all windows are closed or minimized
Running Firefox 5.0 under Mac OS X 10.6.8. If I close all of the windows, or all windows are minimized, I can't open a new window. A new window is listed in the Windows menu with the name "Mozilla Firefox", but the window does not actually exist. The ghost window can't be selected from that menu and therefore also can't be closed
Running Firefox 5.0 under Mac OS X 10.6.8. If I close all of the windows, or all windows are minimized, I can't open a new window. A new window is listed in the Windows menu with the name "Mozilla Firefox", but the window does not actually exist. The ghost window can't be selected from that menu and therefore also can't be closed
Wšykne wótegrona (4)
Can you use command-N to open a new window and command+Tab to go to that window?
Well, the behavior I described is now intermittent. Sometimes I can open a new window and sometimes I can't. If I can't, command-Tab does nothing. So far I've found no consistent circumstances under which I can or can't open a new window.
Originally I was running computationally intensive program that required 3.35 days to complete its run. When the run was over the Firefox problem disappeared - for awhile. Then the problem recurred in the intermittent fashion I've described.
Keyboard shortcuts do not work if a plugin on a web page has focus and in that case you need to click with the mouse outside that plugin object to make the keyboard work again.
I am having this problem as well. I can open tabs without problems, but when I try to open any other windows (new windows, Downloads, bookmarks etc.) it shows up in the Window pull down menu, but do not open. This doesn't always happen, but it is around ~85% of the time. When I quit FF and reopen, the new windows open.
This also happens more rarely in my Thunderbird client, where new message windows will not open.
Technical details: Mac OSX 10.6.8 FF 6.0 Thunderbird 5.0