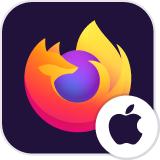 Reader View and List
Read and save web pages in a clutter-free, reader-friendly view
Here's how to view mobile websites on Firefox for iOS as desktop sites.
Reader View in Firefox for iOS strips off distracting elements, like images and navigation links, from web pages so you can focus on the content.
Firefox for iOS lets you save web pages to your Reading List so you can view them later in a clean, reader-friendly mode.