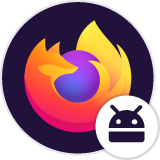 rename a bookmark in firefox android
I can save a bookmark on to my desktop but cannot rename it I have 6 different bookmarks all labeled by Firefox with the same name I am using a Nexus 5 with lollipop Firefox 34.0.1
I can save a bookmark on to my desktop but cannot rename it I have 6 different bookmarks all labeled by Firefox with the same name I am using a Nexus 5 with lollipop Firefox 34.0.1
All Replies (2)
Hello there,
Have you tried synchronizing your bookmarks across mobile/desktop devices? If not, then follow this link: https://support.mozilla.org/en-US/kb/how-do-i-set-up-firefox-sync
Once your devices are synced, you can go ahead and change the name from the desktop Firefox bookmarks folder:
To rename a bookmark, simply press "Ctrl + B", right click the bookmark, click on properties, then rename.
This should sync and your edited bookmarks will show up in Firefox for Android.
Hope this helps!
Modified by Machine Master
On an Android, you have no Ctrl-B or right click capabilities. This has just happened to me when I updated FF and now I have _dozens_ of bookmarks all called "Firefox"
Apart from the fact that this should not have happened and it's going to be a rteal pain fixing them all, how do I?
Thanks for any help
Nick