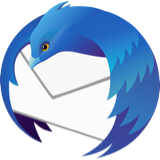 Configuartion Error with custom email address (.immobilien)
I am trying to add my companies info@ email address to my thunderbird account at home. Configuration data is provided by the hosting service but Thunderbird does not seem to recodgnize the new URLs available here in germany (such is .immobilien instead of .com or .de)
I am trying to add my companies info@ email address to my thunderbird account at home. Configuration data is provided by the hosting service but Thunderbird does not seem to recodgnize the new URLs available here in germany (such is .immobilien instead of .com or .de)
All Replies (5)
Thunderbird is an email client, not an email server. It should be able to address mail to, and receive mail from, any domain name, even the newer ones.
You need to create a NEW account in Thunderbird for the 'info@companydomain' address, you cannot simply add it to an existing account.
Can you provide the text of any error messages you received and whether they were generated by Thunderbird or some other source?
TB-38.2 Win10-PC
I have been trying it according to the instructions of the hosting company (link attached, sorry its in german) https://kis.hosteurope.de/support/faq/index.php?cpid=18380
The error i get is wrong password or emailaddress, but i am using the same login for the webmailer, so they must be correct.
'Google Translate' can make mistakes, but it shows the translation of the German word 'Kundennummer' as 'Customer Number', in English. Is the translation wrong? It suggests that the login requires a number? Not your email address?
The link you provided just shows a login screen. But not the same screen as in your attached image. Can you access your webmail server directly, using 'info@address' and password without a login to the site, first?
It appears to be a login to view the webpages, like FAQ's
Yes Kundennummer is Customer ID but not necessarily a number.
The link i provided is supposed to redirect to a tutorial made by the hosting company about how to set up thunderbird.
it pretty much tells me to add my login and password, then click on manual setup, add the server details, ports, SSL and auth, username and password, based on my account info. (all the data is provided by the hosting company) but when i click on finish in thunderbird, i get an error that my login must be wrong and it does not set up the accout ( the account works with my Imac with apple mail with the same settings)
Are you using Thunderbird's 'Password Manager' to store your login details, or are you using a manual login? If using the TB Password Manager, delete the details for that login and try accessing your mail again. You will be asked for your login details. Thunderbird may ask you to save them. Do not save, for now. Does the error message still occur? If it works, close and reopen Thunderbird, log back in and let Thunderbird 'save' the login details. If it doesn't work...
Maybe someone else has an idea?
TB-38.2 Win10-PC - edited for clarity
Modified by gild