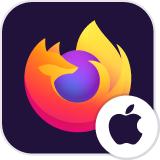 I can't install firefox on my iPhone, nor do I want it.
I have 12.0.3 Should be more than enough
I have 12.0.3 Should be more than enough
All Replies (4)
Please explain the problem in detail. What happens? What is the exact error messages?
It says I have 11.4 and can't download. I really do not want this on my phone. I have an ibook in addition to the big mac I am on now. Can I use that instead? I would really like to have firefox just on my big main Mac
You don't have to use Firefox on your phone. If you want to be able to sync your information in both your computer and your phone you'd need Firefox in both places, but nobody will force you to do that :)
Also, it's possible you're seeing an error message because you have an old operating system on your phone? I'd suggest updating
It won't let me just use firefox on my G5... I need it to access a certain website only so I don't want it on all my devices. Thanks so much for helping me with this!