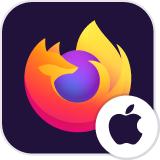 Latest Firefox requires frequent logins to NY Times, Washington Post and other sites
This started when I recently installed Firefox on IOS 13.3.1 on my iPad Pro. The browser is lightning fast. Everything is good, except when I go to the New York Times or Washington Post, when it is clear that I am not logged in. After a couple of minutes, I am asked to log in, using my email address an my current password for each site. The login is fast and the top of the pages show that I am now logged in. The next time I visits these sites (there may be others with the same problem) the same thing happens.
This has also happened when I return to one of these opened sites from another tab . This is driving me CRAZY! I am tempted to give up on Firefox and return to the much inferior Safari.
This probably due to some super-duper security private setting in Firefox, but I cannot find how to fix this
- ivar2
This started when I recently installed Firefox on IOS 13.3.1 on my iPad Pro. The browser is lightning fast. Everything is good, except when I go to the New York Times or Washington Post, when it is clear that I am not logged in. After a couple of minutes, I am asked to log in, using my email address an my current password for each site. The login is fast and the top of the pages show that I am now logged in. The next time I visits these sites (there may be others with the same problem) the same thing happens. This has also happened when I return to one of these opened sites from another tab . This is driving me CRAZY! I am tempted to give up on Firefox and return to the much inferior Safari. This probably due to some super-duper security private setting in Firefox, but I cannot find how to fix this - ivar2
All Replies (1)
You're not using private browsing or anything right? I can only imagine that you might have strict tracking protection turned on and its purging the cookies every time you switch tabs or something, very strange. I'm looking to see if there are any bugs about this potentially