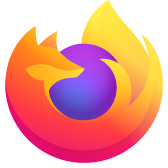 drop down menus went into dark mode
So I have been using a theme for Firefox for some time now, years, called Abstract Electric, makes the tool bar dark with a nice little streak of lightning or something. The tabs are dark but the drop down menus used to be white with black writing. Now this morning there was an update to Firefox and everything stayed the same except the drop down menus are now black with white writing. Can't figure out how to keep my theme which I like but put the drop down menus back to white with dark writing. I only want to change the drop down menus, not the color of the tabs or anything else, just want to put the drop down menus back to black on white
So I have been using a theme for Firefox for some time now, years, called Abstract Electric, makes the tool bar dark with a nice little streak of lightning or something. The tabs are dark but the drop down menus used to be white with black writing. Now this morning there was an update to Firefox and everything stayed the same except the drop down menus are now black with white writing. Can't figure out how to keep my theme which I like but put the drop down menus back to white with dark writing. I only want to change the drop down menus, not the color of the tabs or anything else, just want to put the drop down menus back to black on white
Chosen solution
I think I found the problem: It has to do with Firefox 89 using something called "Proton". When I looked at articles talking about how to disable Proton, it suggested raiding about:config, searching for "proton", and forcing the flags to "false" to restore the "classic UI". I don't care about the rest, just the menus, so I changed the single Proton value browser.proton.contextmenus.enabled to "false" and got my light menus back :-)
Read this answer in context
👍 1
All Replies (4)
Chosen Solution
I think I found the problem: It has to do with Firefox 89 using something called "Proton". When I looked at articles talking about how to disable Proton, it suggested raiding about:config, searching for "proton", and forcing the flags to "false" to restore the "classic UI". I don't care about the rest, just the menus, so I changed the single Proton value browser.proton.contextmenus.enabled to "false" and got my light menus back :-)
@satscout that worked, thanks very much, would never have figured that out myself in a million years. Very much appreciated.
okay so newest update reset everything and now changing the proton menu doesn't change it back. Why can't they just leave us alone
Why are they making changes we do not ask for or want? A recent podcast of Security Now stated that Firefox has lost something like 56 million users and Chromium has gained a bunch. I wonder why? I have used Firefox since Version 1.0PR 10/15/2004. That's 17 years of faithfulness and what is my reward? Making unwanted changes to my browser appearance I did not want or ask for. Improve security, improve Operability, add features just leave the h*ll alone with my appearance settings. I had it like I wanted it and now it's not and I can't change it. Brave? Vivaldi? Edge? Chrome? I am seriously considering alternatives.