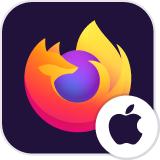 Could not download PDF files from sites that need an authentication
Hello,
I often need to download pdf files from websites that need an user authentication to alow the pdf download. When I try to do so with firefox on iOS - actually Firefox Daylight 38.1 (6216) on iOS 15.0.1 - the file pdf is shown correctly in the broweser view. But when I try to save it on my device via "Share -> Save to files" it downloads a 2 KB sized file as pdf which actually is not a pdf (although firefox named ist PDF). In fact it contains an HTML file with an redirect to the PDF file.
When using safari the same process will save the correct pdf file on my device instead of the wrong HTML file.
Thanks for helping,
  Stefan

Hello, I often need to download pdf files from websites that need an user authentication to alow the pdf download. When I try to do so with firefox on iOS - actually Firefox Daylight 38.1 (6216) on iOS 15.0.1 - the file pdf is shown correctly in the broweser view. But when I try to save it on my device via "Share -> Save to files" it downloads a 2 KB sized file as pdf which actually is not a pdf (although firefox named ist PDF). In fact it contains an HTML file with an redirect to the PDF file. When using safari the same process will save the correct pdf file on my device instead of the wrong HTML file. Thanks for helping, Stefan