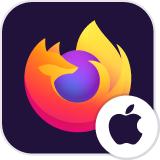 How to search bookmarks on IPAD
HOW TO SEARCH BOOKMARKS"'
'''HOW TO SEARCH BOOKMARKS"'
All Replies (1)
Hi sierravegas,
Unfortunately, there is currently no way to do that on Firefox on iPad or iPhone.
Feel free to provide feedbacks for suggestions on this particular feature via the in-app Settings dialog: Step 1: Tap on the tabs button. Step 2: Tap on the gear/wheel/cog icon. Step 3: Tap 'Send Feedback' to open the feedback page.
Hope the above helps.