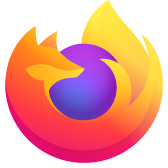 screen changed overnight from being ok to totally different..
can not get anything to work the way it was yesterday.
can not get anything to work the way it was yesterday.
All Replies (3)
Hi
Firefox 103 now applies the Windows "Make text bigger" setting as a zoom multiplier (Release Notes).
If you do not need "Make text bigger" for other applications, the simplest thing you can do is reset that to 100% to resolve the issue:

Hi
While there is not an easy way to revert this our product team did suggest this about:config preference change as the optimal solution at this time.
In the address bar, type about:config and press the Enter key.
The about:config warning page may appear. Click Accept the Risk and Continue to continue to the about:config page.
In the search field, enter browser.display.os-zoom-behavior, select the pencil "edit" icon and change the number to 0.
Select the check mark and restart Firefox.
They did note they would look into alternative options which may be present in a future update.
WARNING from the moderator team: Changing Firefox pref from the about:config page can sometimes break Firefox or cause strange behavior. You should only do this if you know what you're doing.
Please read Firefox advanced customization and configuration options to learn more.
The change that works for most users is to another preference. See the thread below.