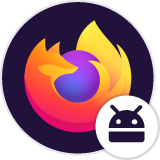 I am not able to return to a previous page on my android tablet in Firefox
I suddenly have no way to return to a previous page in my Firefox on my Samsung A7 Lite tablet
I suddenly have no way to return to a previous page in my Firefox on my Samsung A7 Lite tablet
All Replies (3)
Hi
You can use the back button on your Android device or the back arrow in the Firefox for Android menu.
I hope that this helps.
Unfortunately there is no back button visible anywhere on the screen. I think that the missing back button is my issue. It may be something to do with the Samsung A7 Lite tablet?
I believe that there should be a white arrow to the right of the home icon at the bottom of the screen.