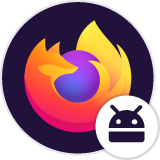 Moving bookmarks
Firefox - Android I don't seem to have an option to move a bookmark into a new bookmark folder.There is supposed to be an option in the menu (after you click and hold the selected bookmark) but the menu only has 3 options - 'open in new tab :. open in private tab. :. Delete. '. -. Am I missing something ? Can anyone help
Firefox - Android I don't seem to have an option to move a bookmark into a new bookmark folder.There is supposed to be an option in the menu (after you click and hold the selected bookmark) but the menu only has 3 options - 'open in new tab :. open in private tab. :. Delete. '. -. Am I missing something ? Can anyone help
Chosen solution
Sorry I' ve not been back but I've been tied up. Well - you'll be pleased to here that you CAN move a bookmark to a different folder, but not completely by the way shown in your original link (which didn't work). This is how to move a bookmark - 1. Your bookmark links will appear in a list after clicking on the..'Bookmark'..menu (3 dots top right of home page) - click on the..'X'..to the right of the link you want to move, then select 'EDIT'. 2. You will now be in the 'Edit screen' which shows the name of the link and it's URL, together with a 'Folders' section below, which shows 'Bookmarks' - Click on 'Bookmarks'. 3. You will see a list of your bookmark folders - click on the bookmark folder you want to move the link to. 4 Now click ONCE on the..'<- Select Folder'.. arrow, top left. 5. You'll be back in the Edit screen which shows the link details, but now, with your selected bookmark folder showing in the lower Folder section. 6. Now CLICK ON THE 'TICK' √ icon in the TOP RIGHT
Job done !! - bookmark link moved - Query sorted
Read this answer in context
👍 2
All Replies (16)
No - the only visible 3 vertical menu dots appear when I select and hold a bookmark. I'll run through the process - on my Firefox home page I click on ' show all bookmarks '. - this opens a new screen that lists my saved bookmarks and bookmark folders - there are no visible menu dots at this stage - I then click and hold the bookmark I want to move - the bookmark becomes highlighted and at this point the 3 menu dots appear at top right of the screen - if I click the menu dots, I get the 3 options previously stated - there is no option to move - there are no other visible menus. I' m using the Firefox app for Android - are you using the same app??
I don't have anything like 'show all bookmarks'. Try to follow the article I linked above: click menu -> Bookmarks.
Firstly, thanks for taking the trouble to reply, it's appreciated. I had previously gone through all links and FAQs before raising the question, and they all said the same as you - that the 3 menu dots provide a 'Move' option - but mine doesn't. The reason that your screen doesn't show ..'Show All bookmarks' .. is probably because of it's settings - in my settings I have activated 'Show recent bookmarks', which places recent bookmarks on the home page together with the 'Show All' bookmarks. I have attached 3 screenshots to show exactly what I am presented with - 1. My Homepage (showing 'Show All') - 2. after clicking 'Show All' , and 3. the options available after highlighting the bookmark.You can see quite clearly that there is NO option to 'Move' a bookmark !!! (Oh, and pressing .. 'Show All' .. bookmarks, results in the same screen as when selecting..'Bookmarks'..from the Homepage main menu). So - your screen shows 3 dots at the side of each bookmark and mine doesn't - I'm running the latest Firefox update along with Android v 12, so if you are running the same, we should both have the same App options, but we clearly don't - any idea of what to do next !!!!
Try to create any bookmark for testing. What happens when you click X on the right side of it?
Already tried that one - no ' Move ' option - per screenshot attached
That's it (except the font issue). As I said before, you can move bookmarks using the Edit option.
Can you tell me how? - when I click on 'Edit ', the only Folder option available within 'Edit' simply allows you to 'add ' another folder - it doesn't move the bookmark into that folder.
Is that it then !!! Your links simply repeat everything you've already said, except that none of the links, nor your own help has actually resolved the issue. If a bookmark can be moved using edit, can you please tell me how, as I can't do it. I' ve used Firefox on my PCs for many years, and with no issues at all - it will be a shame if I have to resort to a different browser on my Android tablet simply because I'm unable to manage bookmarks in Firefox.
Being able to edit bookmarks (to move them to a different folder), is a feature that is not yet in the Release version of Firefox for Android.
It is in the Beta version and we hope to make it available to more people very soon.
Chosen Solution
Sorry I' ve not been back but I've been tied up. Well - you'll be pleased to here that you CAN move a bookmark to a different folder, but not completely by the way shown in your original link (which didn't work). This is how to move a bookmark - 1. Your bookmark links will appear in a list after clicking on the..'Bookmark'..menu (3 dots top right of home page) - click on the..'X'..to the right of the link you want to move, then select 'EDIT'. 2. You will now be in the 'Edit screen' which shows the name of the link and it's URL, together with a 'Folders' section below, which shows 'Bookmarks' - Click on 'Bookmarks'. 3. You will see a list of your bookmark folders - click on the bookmark folder you want to move the link to. 4 Now click ONCE on the..'<- Select Folder'.. arrow, top left. 5. You'll be back in the Edit screen which shows the link details, but now, with your selected bookmark folder showing in the lower Folder section. 6. Now CLICK ON THE 'TICK' √ icon in the TOP RIGHT
Job done !! - bookmark link moved - Query sorted
Hello,
I am glad to hear that your problem has been resolved. If you haven't already, please select the answer that solves the problem. This will help other users with similar problems find the solution.
Thank you for contacting Mozilla Support.
This is completely RIDICULOUS, and FRUSTRATING.
Pressing an X to get to a MENU?! Have you ever heard or ERGONOMICS?! Intuitiveness? User expectation? Every user would expect this to be REMOVE, and won't touch it.
I probably have had to SEARCH for this method a COUPLE of times already.
COME ON, make it DOTS, or just let it pop up with a LONG PRESS!!