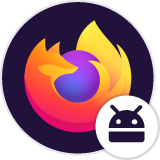 viewing the cache on Android
I would like to view the individual files in my cash to find an image that appeared in my web browser. The site was feeding me the image via JavaScript so I don't actually have a link to go to in order to see it again.
104.2.0 (Build #2015902899), 0f9ad767a+ AC: 104.0.10, 7b0499725d GV: 104.0.2-20220902153754 AS: 93.7.2
Android 11
I would like to view the individual files in my cash to find an image that appeared in my web browser. The site was feeding me the image via JavaScript so I don't actually have a link to go to in order to see it again. 104.2.0 (Build #2015902899), 0f9ad767a+ AC: 104.0.10, 7b0499725d GV: 104.0.2-20220902153754 AS: 93.7.2 Android 11
All Replies (3)
Hi
I am sorry but it will not be possible to do this in Firefox for Android as the cache is not accessible in the same way that it is in a desktop copy.
Can you elaborate on how that works? I have a hard time understanding how it's possible to lock that information up other than to encrypt it and I'd be surprised to learn FF does that as it may slow down browsing.
You would need to root your device which is strongly not advised as it leaves your device open to malware. You would then be able to access the Firefox for Android profile where you may (not guaranteed) be able to access cached images.