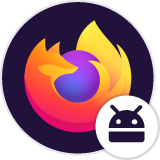 widget on Android
Is there any way to customize the Firefox widget? I use a Samsung S21 plus. Thank you
Is there any way to customize the Firefox widget? I use a Samsung S21 plus. Thank you
All Replies (5)
Hi Amber
How would you like to customise it? The changes you can make are limited, but some may be possible.
Maybe the design of the logo or maybe square the edges Do you know where I can find customisations?
That kind of thing is not immediately possible, but it might be something that could be looked into.
The people who answer questions here, for the most part, are other users volunteering their time (like me), not Mozilla employees or developers. If you want to leave feedback for developers, you can go to the Firefox Help menu and select either Share ideas and feedback… or Submit feedback…, depending on your Firefox version. Alternatively, you can use this link. Your feedback gets collected by a team of people who read it and gather data about the most common issues.
You can also file a bug report or feature request. See File a bug report or feature request for Mozilla products for details.
No problem, happy to help.