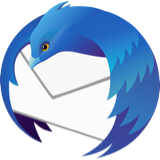 bounced emails
This is the fourth time my incoming emails have been bounced after the 1st time I started to empty my junk and all trash on a daily basis and keep mt stored emails @ approx 258 this worked fine for a month or so now I'm getting bounced again ? What is the quota on allowed space? This seems to change periodically. Thank you
This is the fourth time my incoming emails have been bounced after the 1st time I started to empty my junk and all trash on a daily basis and keep mt stored emails @ approx 258 this worked fine for a month or so now I'm getting bounced again ? What is the quota on allowed space? This seems to change periodically. Thank you
All Replies (1)
There is no quota in Thunderbird because it is just a program running on your computer. So the amount of emails it stores is down to the amount of space you have on computer.
But the server you use will have a quota and that varies. It can also vary depending upon whether you are using an imap account or a pop account. Usually, servers provide more space for imap accounts as all emails are stored on the server.
If you are using an IMAP mail account then you can check the server quota in this location.
Right click on imap 'Inbox' folder and select 'Properties'
Select the 'Quota' tab.
it will say the percentage you have used and also how much MB or GB you have used and what is the maximum the server allows.
Do you compact your folders on a regular basis ? It is necessary to compact folders to remove old traces of previously moved or deleted emails. It tidies up the file and reduces it's size.
Right click on Inbox and select 'Compact'
Just because you emptied the Junk folder , it does not mean that file is completely empty. It is important to compact the 'Drafts' and 'Junk' folders frequently as they usually get a lot of deleted emails.
It would help if you could tell the forum: what type of account you are talking about - Pop or IMAP ? what server are you using eg: gmail tell us what comes after the @ in the email address.
Then I may be able offer a bit more information. If using POP it may well be that you are not removing old emails off server.
If you end up using up all your server quota, then incoming emails can get bounced back to sender so you do not know about them and you may have problems sending until space has been created.