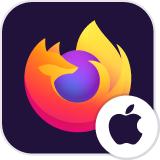 Firefox iOS app keeps crashing
It crashes as soon as I open it, multiple times. I use iPhone 12 mini.
It crashes as soon as I open it, multiple times. I use iPhone 12 mini.
All Replies (2)
Hi
I am sorry to hear that Firefox for iOS is crashing. I hope that we can help resolve this for you. Before following the steps below, please make sure that you have updated both your iOS device and Firefox for iOS to the latest versions available.
As a first step, close down many of the tabs that you have open to as few as possible. Does this help reduce the incidence of a crash?
If this does not help, open the iOS Settings app, select General then iPhone Storage. Find Firefox and select Offload App. Does this help?
Failing that, we will need to look into this in more detail with some logs from inside your copy of Firefox for iOS:
Launch Firefox.
Open Settings.
Scroll down to Version and tap it several times.
Scroll down and hit "Debug: copy log files to app container". This triggers the logs to be saved into the Documents folder.
Open the Files App on your iOS device and navigate to Fennec > Logs. You can see the different logs files here, which you can export using the share menu from Apple to a desktop computer.
Copy and past the full report into https://paste.mozilla.org/, setting the two options at the top to Plain Text and Expire in one week.
Select Paste Snippet on the right hand side, then copy and past the link into a reply to this thread.
I hope that this helps.
I had no taps opened. I couldn't get the log either, because the app crashes within few seconds (before I even try to do anything).
I went to the iPhone Storage. There were two options: "앱 정리하기"(in blue text, meaning 'remove the app from your storage but keep the data, so that you may re-download them later') and "앱 삭제"(in red text, meaning 'delete the app and its data, and it can NOT be undone') I attached a screenshot.
I'm not sure which one is the 'offload the app' you mentioned, so I tried both. The blue one didn't work. The red one worked. The app doesn't crash for now. The local data is gone, and I assume the crash logs are gone as well.