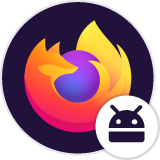 *HELP! Adding bookmarks to folders in firefox mobile"
How to Add bookmarks to folders in "firefox mobile"
Step 6 is the absolute weirdest way to add bookmarks to folders and it doesn't even work!
"6. Tap a few times the ←arrow at the top of the screen until you return to browsing the web"
The problem is what arrow key?.. All I have is a checkmark on the top right of my screen! I already use bookmarks/folders in my Firefox for Windows so why does this one have to be so abstract, minimalistic and counter intuitive?
My point is that I really don't want to use a mainstream browser from apple or Google and I like everything about Firefox for PC and Android except this is damn folder UI on mobile is the bane of my existence atm.
I've looked everywhere on YouTube, Google, Reddit, and of course Mozilla support. What am I missing? Please send a video or something just to clarify what I'm supposed to do in regards to adding bookmarks to folders.
Thank you for your help and patience in reading this I know it was super long
How to Add bookmarks to folders in "firefox mobile" Step 6 is the absolute weirdest way to add bookmarks to folders and it doesn't even work! "6. Tap a few times the ←arrow at the top of the screen until you return to browsing the web" The problem is what arrow key?.. All I have is a checkmark on the top right of my screen! I already use bookmarks/folders in my Firefox for Windows so why does this one have to be so abstract, minimalistic and counter intuitive? My point is that I really don't want to use a mainstream browser from apple or Google and I like everything about Firefox for PC and Android except this is damn folder UI on mobile is the bane of my existence atm. I've looked everywhere on YouTube, Google, Reddit, and of course Mozilla support. What am I missing? Please send a video or something just to clarify what I'm supposed to do in regards to adding bookmarks to folders. Thank you for your help and patience in reading this I know it was super long
All Replies (1)