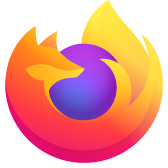 Easyjet Tab
I cannot login to my Easyjet account using Mozila Firefox, i keep getting an error code, when i use another Browser like Brave i have no problems.I am thinking of deleting Firefox browser
I cannot login to my Easyjet account using Mozila Firefox, i keep getting an error code, when i use another Browser like Brave i have no problems.I am thinking of deleting Firefox browser
All Replies (2)
Hi Paul
What is the error code that you are getting?
This may help us to look into what is happening and hopefully find a solution for you.
If EasyJet uses multiple servers -- you would notice the left part of the URL changing in the address bar -- there could be a problem with Firefox not allowing cookies to be shared between its various servers ("Total Cookie Protection").
You can make exceptions to this feature by turning off Enhanced Tracking Protection on each server that you visit as part of the process of using the company's services. More info in the following articles:
Any difference?