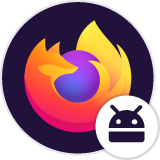 Bookmarks will not sync to android. I tried everything
I cannot get Firefox to sync my bookmarks to to my new android. Other things are syncing so I know sync is working it just will not sync the bookmarks. I have tried everything. I have checked my sync settings a dozen times. I've signed out and signed back in on both devices. I have even uninstalled on both devices while signed out and reinstalled and still I cannot get the bookmarks on my phone. Please help! It's a Galaxy s21 and I am on windows 10
I cannot get Firefox to sync my bookmarks to to my new android. Other things are syncing so I know sync is working it just will not sync the bookmarks. I have tried everything. I have checked my sync settings a dozen times. I've signed out and signed back in on both devices. I have even uninstalled on both devices while signed out and reinstalled and still I cannot get the bookmarks on my phone. Please help! It's a Galaxy s21 and I am on windows 10
All Replies (3)
Hi
I understand that Firefox Sync did not connect to your mobile device on this occasion, but hopefully I should be able to help you force a Sync event to take place.
Assuming you have connected the same Sync account on both your mobile and desktop copies of Firefox:
Having saved a new bookmark in the desktop copy of Firefix, waiting a short while then opening Firefox on your mobile device:
Go into the Settings menu and select your Firefox Account at the top of the list.
Tap on Synchronise now.
This will "force" a synchronisation of the data that is on the local device storage.
Thank you for the idea, I tried it a few times but my "sync now" button won't respond in the android version of Firfeox. Maybe that is the main issue here.
What is the version number of Firefox for Android that you have installed on your Android device?