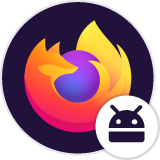 Bookmarks
How to get bookmarks from: Samsung Internet (19.0.6.3 Ver)
(Galaxy A71 5G equipment)

to 

Firefox (Firefox 109.2.0 (Build #2015930059), a66807eeb+ AC: 109.2.0, 06a7d70e25 GV: 109.0.1-20230127170202 AS: 96.1.3 ) Same equipment
How to get bookmarks from: Samsung Internet (19.0.6.3 Ver) (Galaxy A71 5G equipment) to Firefox (Firefox 109.2.0 (Build #2015930059), a66807eeb+ AC: 109.2.0, 06a7d70e25 GV: 109.0.1-20230127170202 AS: 96.1.3 ) Same equipment
All Replies (3)
Hi
I suggest signing into your Firefox Account on your old device (where the bookmarks are) and setting up Firefox Sync. Open the Firefox for Android menu, select Settings and then the option at the top of the list.
Once done, then sign into your Firefox Account on the new device and waiting a short while for them to sync across.
I hope that this helps.
Paul, I really appreciate your time and being so generous. Thank you. However I may not have explained myself properly. I have one phone. I have used Samsung internet browser up to now. I have started to use Firefox and want to continue using Firefox as my default preferred browser. I have a lot of bookmarks in the Samsung browser ide like to bring over to the Firefox browser but I cannot find a way to do so. Thanks again Paul. You are appreciated.
Thank you for the clarification.
It is not going to be possible to transfer bookmarks and other data from Samsung Internet to Firefox for Android.