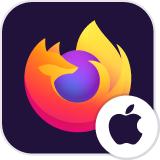 long time crapped tabs' manager in FF on iOS
The latest and previous versions for over one year-two years have had problems with tabs.
1. My account is logged off after closing FF with the active tab opened and starting again. Whatever service I am logged in to is logged off. JUST TRY IT and don't fuck about it. The services in other tabs are logged in but not in the active one.
2. opening a link in a new tab ("right click") throws me somewhere in the list of my tabs. It is not opened just next to the active tab. just somewhere ahead. eg I have 80 tabs. My active tab is 60th. the link opened in the new tab is 75th. Unlike in Chrome next to the active tab.
3. tabs sometimes "lose" their address. They are blank. They very rarely open properly after a few restarts of FF.
4. moving tabs is very difficult unlike in Chrome or Safari
The latest and previous versions for over one year-two years have had problems with tabs. 1. My account is logged off after closing FF with the active tab opened and starting again. Whatever service I am logged in to is logged off. JUST TRY IT and don't fuck about it. The services in other tabs are logged in but not in the active one. 2. opening a link in a new tab ("right click") throws me somewhere in the list of my tabs. It is not opened just next to the active tab. just somewhere ahead. eg I have 80 tabs. My active tab is 60th. the link opened in the new tab is 75th. Unlike in Chrome next to the active tab. 3. tabs sometimes "lose" their address. They are blank. They very rarely open properly after a few restarts of FF. 4. moving tabs is very difficult unlike in Chrome or Safari
Modified by jarekmn