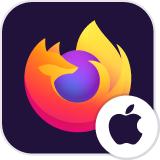 Since the latest ios update, I can no longer delete hustory
I have used Firefox for iOS on my iPad for years. Daily or At least every other day I delete the history by using history, trash can, then choosing everything huingy. One day it didn't work. There were last week entries, which I don't normally see. I painstakingly manually deleted them. They all came back. I checked fir an update and saw that it had updated the previous day to 110.2 As if today 03/13/23 I still can't clear my history. At one point Today and yesterday disappeared. Then Inclosed, reopened history and everything once again reappeared!
Please help. I have emptied the iPad's cache it doesn't help. I have off loaded the FF app, and pulled it back , nothing helps.
Thanks for any advice. LJ
I have used Firefox for iOS on my iPad for years. Daily or At least every other day I delete the history by using history, trash can, then choosing everything huingy. One day it didn't work. There were last week entries, which I don't normally see. I painstakingly manually deleted them. They all came back. I checked fir an update and saw that it had updated the previous day to 110.2 As if today 03/13/23 I still can't clear my history. At one point Today and yesterday disappeared. Then Inclosed, reopened history and everything once again reappeared! Please help. I have emptied the iPad's cache it doesn't help. I have off loaded the FF app, and pulled it back , nothing helps. Thanks for any advice. LJ