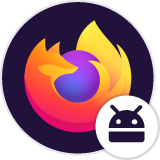 Difficulty signing in to sites using Firefox on Android
In the past few weeks i cannot sign in to my accounts with different vendors like Amazon. A pop up window appears when I click on "Sign In" and the window states, and I quote: "Open in another app
                                                                                                         Would you like to leave Firefox to view this content?"
                                                                                                          Cancel                     Open 

If I click on Cancel it will let me enter the email or phone number in the site pop up box. But, once entered and pressing the continue box, which would normally take you to the password box, it brings up the same window as above. Then it does not matter whether i click on Cancel or Open, it will not give me a password box and will not take me to the site. It presents a page that states We're sorry, The web address you entered is not a functioning page on our site. So, I cannot call any Firefox Tech person and get this straightened out. Also today, the website icons I have saved to my home page were greyed out today. I went to Verizon and they determined it was an issue with Firefox since that is how I accessed those sites and used that search engine to save them to the home screen. I decided to reload those one at a time and then erase the greyed out icons. When I got the 3rd one done the other 29 became live again. Not sure what is at issue here but i do need assistance. Please help. Paul Phipps
In the past few weeks i cannot sign in to my accounts with different vendors like Amazon. A pop up window appears when I click on "Sign In" and the window states, and I quote: "Open in another app Would you like to leave Firefox to view this content?" Cancel Open If I click on Cancel it will let me enter the email or phone number in the site pop up box. But, once entered and pressing the continue box, which would normally take you to the password box, it brings up the same window as above. Then it does not matter whether i click on Cancel or Open, it will not give me a password box and will not take me to the site. It presents a page that states We're sorry, The web address you entered is not a functioning page on our site. So, I cannot call any Firefox Tech person and get this straightened out. Also today, the website icons I have saved to my home page were greyed out today. I went to Verizon and they determined it was an issue with Firefox since that is how I accessed those sites and used that search engine to save them to the home screen. I decided to reload those one at a time and then erase the greyed out icons. When I got the 3rd one done the other 29 became live again. Not sure what is at issue here but i do need assistance. Please help. Paul Phipps
All Replies (3)
Hi, try to go to menu -> Settings -> Advanced section -> and set Open links in apps to Never.
I followed the instruction from Ty but in advanced settings on my Note 8 there is not an Open Links In Apps. Therefore no choice to see or change a setting. Any other thought? Thanks
It should be in Firefox's settings, not in android's.