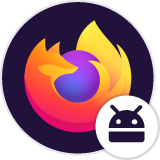 about:home link on webpage does not work
I have inserted a link on my webpage to about:home to take the user to the firefox homepage, it looks like this: <a href="about:home">Firefox</a> This seems to work fine on the desktop browser, however it does not work on Firefox Android on the Samsung Galaxy Note GT-N8010 using android version 4.1.2 and Firefox Android version 33.0. The link does not work, however is recognised as a link, since the long press on the link give options for opening/copying the link, but if I then select 'open in new tab', it still won't open it. Is this normal or should the link work? Thanks to anyone who can answer this, Cath
I have inserted a link on my webpage to about:home to take the user to the firefox homepage, it looks like this: <a href="about:home">Firefox</a> This seems to work fine on the desktop browser, however it does not work on Firefox Android on the Samsung Galaxy Note GT-N8010 using android version 4.1.2 and Firefox Android version 33.0. The link does not work, however is recognised as a link, since the long press on the link give options for opening/copying the link, but if I then select 'open in new tab', it still won't open it. Is this normal or should the link work? Thanks to anyone who can answer this, Cath
All Replies (4)
Chosen Solution
This will not work. It is intentional.
I'm a little surprised that Firefox for desktop/laptop systems allows use of about: in links in web pages...
Desktop should not allow linking as I recall.
Thanks for your responses. The link does work in the desktop version of Firefox, but if it is not meant to work in the Android version then that answers my question, thank you.