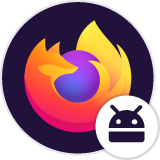 PDF printing in Firefox for Android
Hi all. Cam anyone tell me if there will be a print to PDF feature added any time soon? I really miss the feature for printing receipts etc but it's been missing since the new Firefox interface arrived. I keep having to switch too Chrome to print.
I've had a Google but it doesn't seem to be something that's available even by an add-on.
I'm using a Pixel 6 with the latest Firefox available in the Play store.
Suggestions please :)
Thanks
Hi all. Cam anyone tell me if there will be a print to PDF feature added any time soon? I really miss the feature for printing receipts etc but it's been missing since the new Firefox interface arrived. I keep having to switch too Chrome to print. I've had a Google but it doesn't seem to be something that's available even by an add-on. I'm using a Pixel 6 with the latest Firefox available in the Play store. Suggestions please :) Thanks
All Replies (2)
Hi
Firefox for Android does not currenty have the ability to save a web page, but this is something that our developers are looking into and may include in a future update. You can follow progress on this and add comments at: