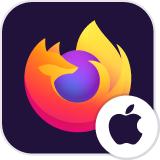 Saving/Printing PDFs
Hi,
My issue is that when trying to download PDFs using Firefox for iOS (latest FF version as well as latest iOS version) I cannot get a particular document to save.
Reference the two attached screenshots:
1) the volcanic national monument flyer is 18.1MB, and clearly says PDF document. I can click the 3 dots and select Share With… then Print and then save the PDF without issue.
2) the second PDF, the Gulfstream G650 manual, also says PDF document but only 441 bytes, which is clearly incorrect. It's 82 pages and much more than that, but I cannot get this save as a PDF using the method described in step 1.
Is there a reason one is able to be saved and one cannot?
For reference, if I open the second link with Safari or Brave, I have no issue sharing that with the print menu of the browser, then generating a PDF.
Any help would be greatly appreciated as I've been stuck on this for months now, doing lots of research and seeing if there are workarounds *other* than using another browser.
Thanks,
Colin
Hi, My issue is that when trying to download PDFs using Firefox for iOS (latest FF version as well as latest iOS version) I cannot get a particular document to save. Reference the two attached screenshots: 1) the volcanic national monument flyer is 18.1MB, and clearly says PDF document. I can click the 3 dots and select Share With… then Print and then save the PDF without issue. 2) the second PDF, the Gulfstream G650 manual, also says PDF document but only 441 bytes, which is clearly incorrect. It's 82 pages and much more than that, but I cannot get this save as a PDF using the method described in step 1. Is there a reason one is able to be saved and one cannot? For reference, if I open the second link with Safari or Brave, I have no issue sharing that with the print menu of the browser, then generating a PDF. Any help would be greatly appreciated as I've been stuck on this for months now, doing lots of research and seeing if there are workarounds *other* than using another browser. Thanks, Colin