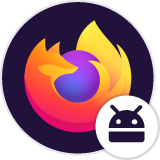 import/export bookmarks from/to file
Currently there's no way to import/export bookmarks from/to file, while in the desktop version it always has been possible. It seems Mozilla does not want this basic feature in mobile app, why? Many users are asking this since forever! Thank you
Currently there's no way to import/export bookmarks from/to file, while in the desktop version it always has been possible. It seems Mozilla does not want this basic feature in mobile app, why? Many users are asking this since forever! Thank you
Krejt Përgjigjet (2)
Please note that the usual 'Firefox Sync' reply is not an answer.
Hi,
The people who answer questions here, for the most part, are other users volunteering their time (like me), not Mozilla employees or developers. If you want to leave feedback for developers, you can go to the Firefox Help menu and select either Share ideas and feedback… or Submit feedback…, depending on your Firefox version. Alternatively, you can use this link. Your feedback gets collected by a team of people who read it and gather data about the most common issues.
You can also file a bug report or feature request. See File a bug report or feature request for Mozilla products for details.